UHMWPE HMPE HPPE Dyneema Bulletproof Ballistic Cooling Staple Fiber 10D/20D/30D/50D/75D/100D/200D/350D/400D/1000D UD Fabric Sheet
Product Detail
Product Tags
◎ Lower density than water
◎ Extremely high ratio of weight-strength and weight-modulus
◎ At least double cooling sensation of other raw materials
◎ Excellent resistance with salty, acid, alkali and other most chemicals
◎ Resistant to stretching and bending fatigue, features a long flexibility lifetime
◎ Low elongation ratio at break, high breaking strength, outstanding cut resistance
◎ Good UV, neutron and γ-ray resistance, low dielectric constant, high electromagnetic wave transmittance
◎ Excellent impact resistance, high impact absorption capacity that is nearly 2 times greater than aramid, high abrasion resistance and low friction coefficient
Bulletproof Armor: bulletproof armor, ballistic helmet, bomb suppression blanket, ballistic plate, etc.
Oceaneering: drilling platform, anchor cable, towrope, mooring rope, terminal hoisting rope, etc.
Industrial Applications: cut-resistant gloves, hoisting rope, wind power cable, etc.
Aerospace Engineering: aircraft wing tip component, spacecraft component, buoy of aircraft, aviation cage, spacecraft component, etc.
Marine Fisheries: commercial fishing net, marine aquaculture net, salvage rope, towing rope, sailing rope, etc.
Outdoor Sports: climbing rope, parachute rope, sailing rope, kite line, fishing line, helmet, sail round plate, ultra-low-weight aircraft parts, etc.
Biological Material: denture base material, graft and plastic sutures, etc.
Industrial fields: pressure container, conveyor belt, filtration material, automobile cushion plate, etc.
Construction: wall, diaphragm structure, reinforced cement composite material, etc.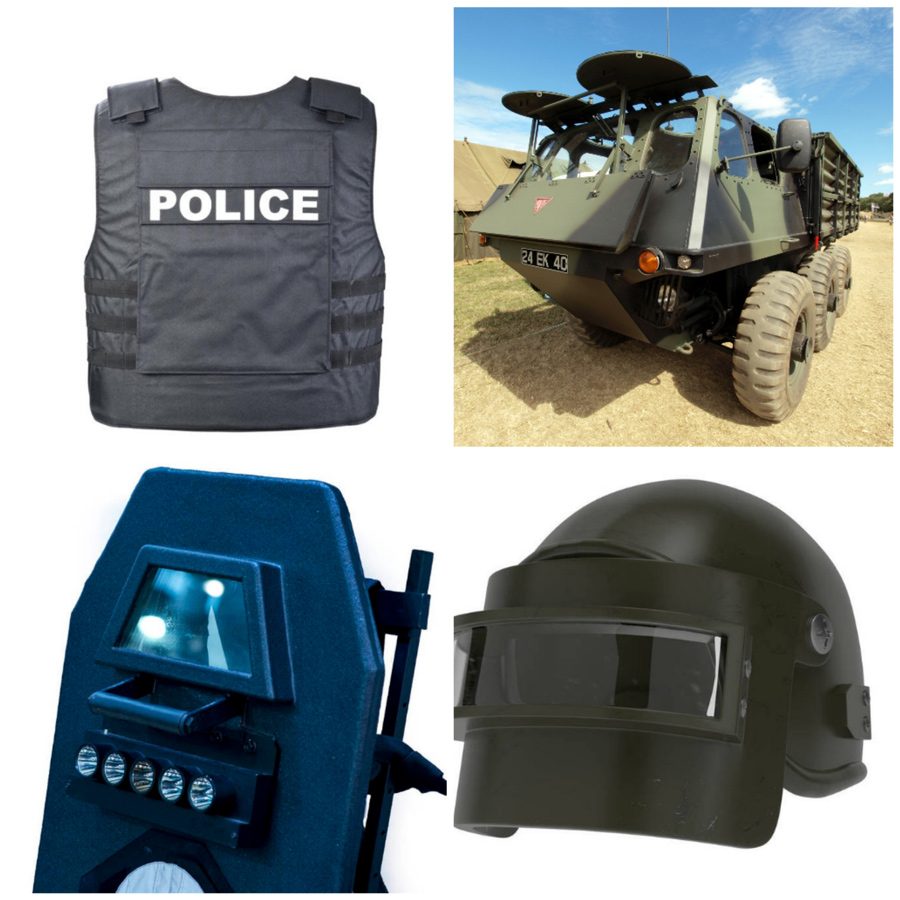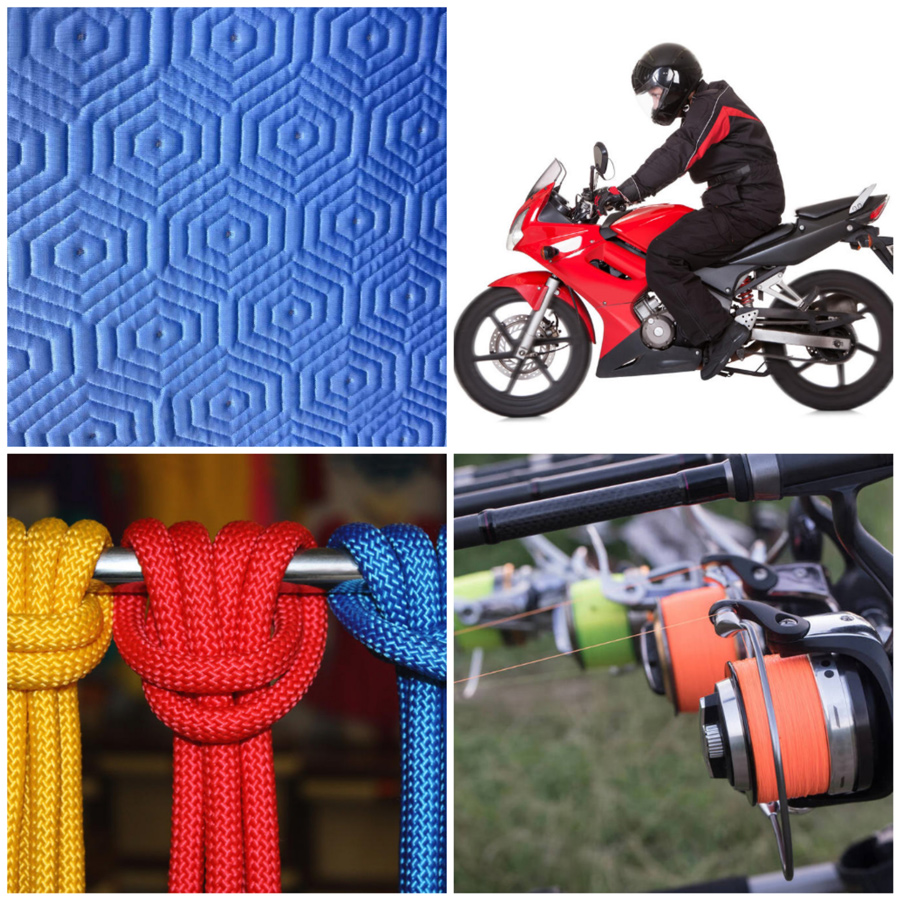 Performance comparison between UHMWPE / HMPE fiber and other fibers
| | | | | | |
| --- | --- | --- | --- | --- | --- |
| Fiber Type | Steel fiber | Glass fiber | Carbon fiber | Aramid Fiber | UHMWPE fiber |
| Density (g/cm3) | 7.8 | 2.6 | 1.97 | 1.45 | 0.97 |
| Melting Point (oC) | 1150~1500 | | 500~2000 | 500~560 | 135~145 |
| Elongation (%) | 1.1-1.4 | 4.8 | 0.5~2 | 2.4~4.4 | 3.5~3.7 |
| Modulus (Gpa) | 50 | 72 | 230~400 | 60~120 | 70~132 |
| Strength (g/d) | 2.5~2.8 | 15 | 22~30 | 22~26 | 32~40 |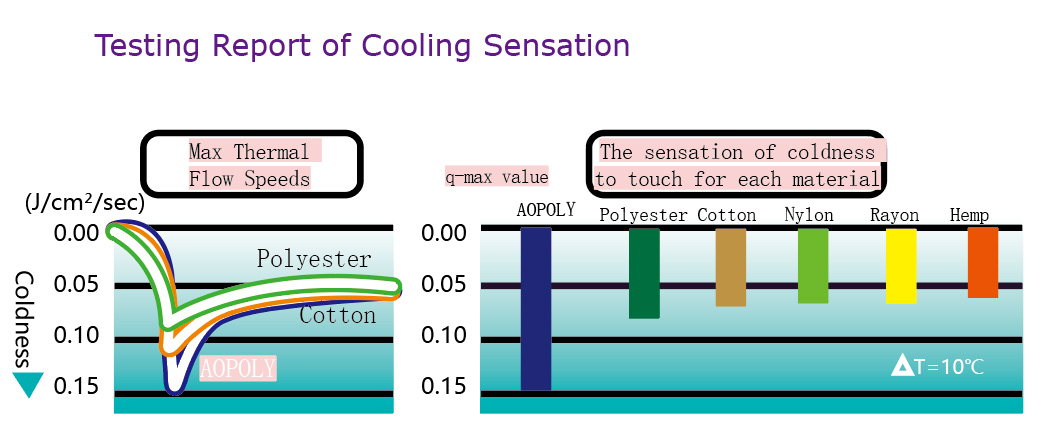 Specification of UHMWPE Filament Yarn
Item No
Linear density
Tensil strength
Modulus
Elongation at break
(Denier)
 (dtex)
(cN/dtex)
(cN/dtex)
(%)
AP-HMP-10
10D
11
≥40
≥1500
≤3.5
AP-HMP-15
15D
17
≥40
≥1500
≤3.5
AP-HMP-20
20D
22
≥40
≥1500
≤3.5
AP-HMP-25
25D
28
≥40
≥1500
≤3.5
AP-HMP-30
30D
33
≥40
≥1500
≤3.5
AP-HMP-40
40D
44
≥40
≥1500
≤3.5
AP-HMP-50
50D
55
≥40
≥1500
≤3.5
AP-HMP-75
75D
83
≥38
≥1400
≤3.5
AP-HMP-100
100D
111
≥35
≥1350
≤3.0
AP-HMP-125
125D
139
≥35
≥1350
≤3.0
AP-HMP-150
150D
165
≥34
≥1300
≤3.0
AP-HMP-175
175D
193
≥33
≥1250
≤3.0
AP-HMP-200
200D
222
≥33
≥1250
≤3.0
AP-HMP-225
225D
248
≥33
≥1250
≤3.0
AP-HMP-250
250D
275
≥33
≥1250
≤3.0
AP-HMP-300
300D
333
≥32
≥1200
≤3.0
AP-HMP-350
350D
389
≥32
≥1200
≤3.0
AP-HMP-400
400D
444
≥32
≥1200
≤3.0
AP-HMP-500
500D
555
≥32
≥1200
≤3.0
AP-HMP-600
600D
667
≥32
≥1200
≤3.0
AP-HMP-700
700D
777
≥30
≥1100
≤3.5
AP-HMP-800
800D
889
≥34
≥1200
≤3.5
AP-HMP-1200
1200D
1333
≥34
≥1200
≤3.5
AP-HMP-1600
1600D
1778
≥34
≥1200
≤3.5
More UHMWPE / HMPE fiber Products
Type
Size
Advantage
Application
Staple
1.21dtex*38mm
1.21dtex*51mm
1.91dtex*38mm
1.91dtex*51mm
Soft hand-feel, Good spinnability
Cool fabric, Apparel fabric, High strength sewing thread and industry fabric
Nets
Mesh Depth: Max 1000D
High strength with lower weight
Fishery, Farm fishing acquaculture net
Covered Yarn
With glass fiber, Steel wire,
Soft hand-feel, Cutting resistance
Cutting resistance gloves, Sports fabric
Spinning Yarn
With glass fiber, Steel wire
Soft hand-feel, Anti-cut, Anti-stab
Composite materials
UD Fabric
I, IIA, II, IIIA, III, IV
Soft texture, Good protective performance
Labor and armor protection
Woven & Knitted Fabric
Produced by customization
High strength, Cool feeling, Anti-cut, Anti-stab, Abrasion resistance
Sports, Industry, Hometextile
---
Next:
---